Corucia Anzeigen Standard
+1
Verkaufe Skinke
Gebe 2,0 Corucia Zebrata ab.
Gebe 2,0 Corucia Zebrata Inselform Malaita ab. Es sind eigene Nachzuchten Bild 1 ist eine NZ 2018 und Bild 2 eine NZ von 2019. Bei Interesse einfach PN.
Übergabe in Hamm am 11.03.2023 möglich.
Hello everyone, I am looking for a "yellow" Corucia zebrata male. Am looking for offers with pictures and price. I am willing to pay a lot of money for the right animal.
Suche Männchen Corucia zebrata alfredschmidti, eventuell auch Tausch mit anderen Corucen.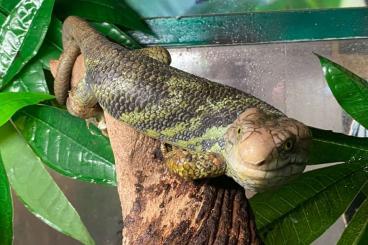 +2
Suche Skinke
Tiliqua rugosa and corucia
I', looking for
1.0 Tiliqua rugosa asper
1.1 Tiliqua rugosa spp
1.2 Tiliqua irian jaya
1.1 Corucia Zebrata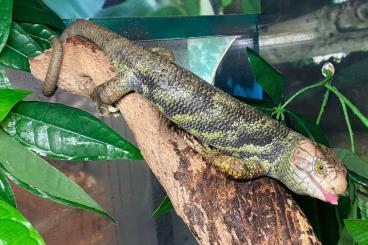 +2
Verkaufe Echsen
Attention: Captive Breed is a thief
Captive Breed is managed by a citizen of United Arab Emirates, called Etienne Takilam Ndi, it is not from England like you can see from the flag. The first time, when I tried to send money to him with Western Union they said to me that this person was not authorized to get money for security reasons. The second time I sent to him money with Ria for reserving the Corucia of his advertisement and he never came to the appointment stoling to me 250 euros. His telephone number is 00971/588107773.
Verkaufe Echsen
Attention: Captive Breed is a swindler
Attention: the advertisements made with the name Captive Breed or Nick Paul are made by swindlers that ask to you money for reserving a reptile but don't go to the appointment and steal the amount that one sent to them. They are not English, even if you can see the British flag, but from United Arab Emirates. They stole to me 250 euros with the fake advertisement of the Corucia.
Dario Evangelisti
Hello,

I am looking for a pair ideally 1.1 of Varanus Glauerti and Varanus Pilbarensis.
I could be interested to exchange Corucia zebrata (young animal born in my place 2020) and/or a male Rhacodactylus leachianus henkeli.

Thank you very much

Best regards
Hier bei dem www.terraristik.com Kleinanzeigen können Sie:

Terrarientiere kaufen, verkaufen und tauschen.
Tiere und Zubehör finden oder kostenlos oder als Premium Inserat inserieren.
Kontakt mit Züchtern und Händlern aus dem In- und Ausland aufnehmen.