Protobothrops Anzeigen Standard
Protobothrops Anzeigen Premium
+6
PREMIUM
Verkaufe Schlangen
offer for Snakeday or Prague
1.1 Protobothrops cornutus CB 7/22, Phoung Nha
1.1 Bothrops erythromelas CB 6/21
1.0 Parias flavomaculatus CB 3/22
1.0 Pareas carinatus, snail eater, young male ready to breed
1.0 T. purpureomaculatus, CB 5.21, green, Sumatra
1.1 T. trigonocephalus, CB 9.22
+6
PREMIUM
Verkaufe Schlangen
Delivery to Hamm, Houten or Prague:
1.1 Protobothrops cornutus CB 7/22, Cuc Phuong-Vietnam; Bothrops erythromelas CB 6/21; 1.0 Parias flavomaculatus CB 3/22; 1.0 Pareas carinatus, young male ready to breed.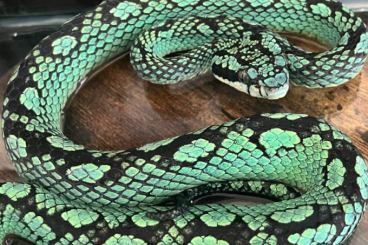 +25
PREMIUM
Verkaufe Giftschlangen
List for Hamm September venomous snakes
2,2 Crotalus pyrrhus white cb22
2,2 Crotalus molossus nigrescens cb22
1,1 Crotalus polystictus cb22
1,1 Echis carinatus sochureki cb19
2.2 bitis rhinoceros cb22
1.1 echis pyramidum cb19
1.1 h. haemachatus cb22
1.1 b. Schlegelii cb22
1.1 Montivipera wagneri cb22
1.1 Aspidelaps lubricus cb22
1.1 Aspidelaps cowlesi cb20
1.0 protobothrops mucrosquamatus cb18
0.1 c. Klauberi cb22
1.0 c. Viridis cb18
1.1 b. Arietans cb22
1.1 sistrurus mil barbouri cb19
3.3 c. Atrox albino cb22
1.1 t. Alborabris
Hier bei dem www.terraristik.com Kleinanzeigen können Sie:

Terrarientiere kaufen, verkaufen und tauschen.
Tiere und Zubehör finden oder kostenlos oder als Premium Inserat inserieren.
Kontakt mit Züchtern und Händlern aus dem In- und Ausland aufnehmen.