Other Agama standard ads
+2
Sell Other Agama
Uromastyx d. flavifasciata ENZ 08/2018 - RESERVIERT
0,1 Uromastyx d. flavifasciata eigene Nachzucht 08/2018. Versand bei
geeigneten Temperaturen möglich, muss aber vom Käufer organisiert werden.
(Nur DE) Geschlecht ohne Garantie. € 350 Weitere Fotos gerne per PN
01738946512
+1
Sell Other Agama
Tribolonotus gracilis 0.0.2
Biete ENZ 0.0.2 Tribolonotus gracilis
(buschkrokodil / orangeaugen-helmskink)
Derzeit alles vergeben. Reservierungen für die nächsten Tiere sind denkbar.

0.0.2 300€

Tiere gänzlich Blutsfremd. Sie wurden stets qualitativ und Abwechslungsreich ernährt und supplementiert.

Bilder: @jorissic_park


Abholung in 68753 bevorzugt.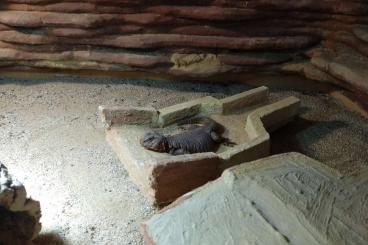 +2
Sell Other Agama
2x männliche Uromastyx Geyri DNZ 2005
Ich biete 2 gesunde Männchen (orange und gelb) der o.g. Art. Beide sind seit 2007 in meinem Besitz. Es handelt sich um Geschwistertiere. Herkunftsnachweis vorhanden.
Die Tiere werden gehalten in einem Terrrium aus 16 mm Tischlerplatte mit folgenden Maaßen:
Grundfläche: 175 x 75
Unterbau: 64 hoch
Terrarium: 60 hoch
Lampenkasten: 9.5 hoch
Beleuchtet wird mit 2x HCI, Spots, Lucky Reptile Bright Sun, früher Vitalux.
Das Terrarium wird ebenfalls mitverkauft.
Ich verkaufe wegen mittlerweile nachgelassenem Interesse an dem Hobby und dem eigenen Nachwuchs, welcher mich voll auslastet.

Gesamtpreis: 700,00 VB
Tympanocryptis centralis 2,0 cb2019&2020 100€

I can deliver them to Germany on February.

facebook.com/ilovegeckospl
Suche 1.0 Uromastyx geyri, am besten 1-6 Jahre alt. Looking for a 1.0 U. geyri, ideally 1-6 years old.
Looking for Phrynocephalus mystaceus.
All sizes are of interest. Male and female.
Other Agama Premium ads:
Here in the www.terraristik.com classifieds you can:

Other Agama buy, sell and exchange.
Find animals and accessories or sell them free of charge or with a paid classified.
Contact breeders and dealers from Germany and abroad.