herps Premium ads
+2
PREMIUM
Sell Lizards
1,1 Uromastx geyri Nz 2020
Hallo,
wegen Bestandsreduzierung abzugeben.
1,1 Uromastyx geyri. Nzten 2020 . Schöne , fehlerlose Tiere.
Mehr Infos und Bilder gern per Whatsapp oder anrufen.0175/5633051.
600 Euro VB. Versand möglich , Abholung bevorzugt .
NO ENGLISH SPEAKING.NO HAMM.
Gruß Michel
Proven pair of CB drymarchon corais yellow tails, flawless animals.
Female 4 yrs old, male 3 yrs old.

4800pair.

Hamm delivery

Info@colubra.be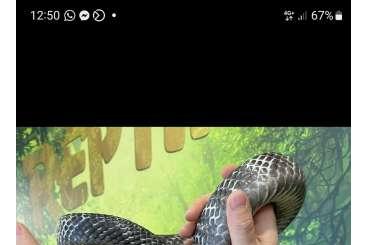 PREMIUM
Sell Snakes
1.1 CB adult Drymarchon corais
Proven pair of CB drymarchon corais yellow tails, flawless animals.
Female 4 yrs old, male 3 yrs old.

4800pair.

Hamm delivery

Info@colubra.be
+4
PREMIUM
Sell Insects
Zephronia, Heteropoda, Hemiplecta
Hi,

For Hamm :

- Hemiplecta floweri
- Platymma tweediei, fire snail
- Zephronia sp.
- Zephronia sp brown
- Heteropoda davidbowie
- Heteropoda boiei
- Heteropoda javana
- Heteropoda tetrica
- Messor barbarus
- Messor capitatus
- Myrmecia forficata
- Myrmecia pyriformis
- Myrmecia nigrocincta
- Camponotus castaneus
- Crematogaster scutellaris
- Lasius sp noire
- Camponotus cruentatus
- Camponotus cf. sansabeanus
- Camponotus ligniperdus
- Camponotus nicobarensis
- Myrmecia
- Psytalla horrida, the horrid king assassin bug
- Prionotheca coronata, Urchin Beetle
- Platerodrilus foliaceus

More species on our webshop : https://www.lafermetropicale.com/
We can bring animals with pre-order, but only with deposit by PayPal

Regards,
Dylan, La Ferme Tropicale
PREMIUM
Sell - bird spiders
Houten (A3) / Hamm (ROW- 5 main hall) www.Exotic-Spiders.com
Houten (04.06) and Hamm (10.06) All pre orders above 100e get 1-2 freebies (high amount)
Offer available on the website and fully list can be send on the email.
Safely shipping with UPS express (48h max) in all EU.
Avicularia hirschii/ variegata/ minatrix/ rufa (Brazil)/ urticans green/ marienae
Homoeomma chilensis/ Davus sp Panama / Cyriopagups sp Valhalla
Ornithoctoninae sp Phan Cay/ Vietnam silver/ Cho Chi Minh
Grammostola rosea/iheringi/actaeon/pulchra
Theraphosa blodni/ apophysis
Ybyrapora diversipes/ sooretama
Phormingochilus pennellhewlettorum/ Akcaya

and many more on www.Exotic-Spiders.com
contact@exotic-spiders.com
+31633489306 (what's app)
+8
PREMIUM
Sell Snakes
Dendrelaphis, Eryx, Oxybelys, Calabaria, Python and more
Hi,
For Hamm :
- 0.2 Dendrelaphis pictus, adults, painted bronzeback
- 1.1 Dasypeltis gansi, Gans's egg-eater
- 0.3 Drymarchon melanurus rubidus, young, CB22
- 1.1 Eryx muelleri, adults
- 1.1 Mehelya crossi, Crosse's File Snake
- 1.2 Dendrelaphis caudolineatus, adults, Striped Bronzeback
- 0.2 Loxocemus bicolor, adults, burrowing python
- 1.0 Calabaria reinhardtii, Calabar ground python
- 0.1 Apodora papuana, Papuan Olive Python
- 2.0 Aplopeltura boa, sub adult, Blunthead Slug Snake
- 1.1 Morelia viridis, « Kaimana », adults
- 1.0 Oligodon purpurascens, adult, Brown kukri snake
- 0.1 Oxybelis fulgidus, sub adulte, Green Vine Snake
- 1.0 Rhinocheilus lecontei tessellatus, Longnose Snake lecontei
- 1.0 Python (curtus) brongersmai, young, Malaysian blood python
- 1.0 Scaphiophis albopunctatus, adult, hook-nosed snakes
- 0.1 Malayopython reticulatus, young, reticulated python
- Candoia aspera normal and yellow, sub adult

Pm for infos or pics.
More species on our webshop : https://www.lafermetropicale.com/
We can bring animals with pre-order (with deposit by PayPal).

Regards,
Dylan, La Ferme Tropicale
+3
PREMIUM
Sell frogs
Megophrys, Trichobatrachus, Theloderma, Kaloula
Hi,
For Hamm :
- Megophrys nasuta, male and female, long-nosed horned frog
- Megophrys nasuta young (5-6 centimeters), long-nosed horned frog
- Kaloula pulchra, ivory, banded bullfrog
- Leptobrachium hendricksoni, adults, Thai spadefoot toad
- Nyctixalus (Theloderma) pictus, adults, cinnamon treefrog
- Trichobatrachus robustus, adults, Wolverine frog
- Theloderma asperum, young and adults, bird poop frog

More species on our webshop : https://www.lafermetropicale.com/
We can bring animals with pre-order, but only with deposit by PayPal

Regards,
Dylan, La Ferme Tropicale
+5
PREMIUM
Sell Lizards
2021 HOLDBACK 1,0 Heloderma suspectum Father Utah Blacky (Reisinger)
Biete einen sehr schönen männlichen HOLDBACK Heloderma suspectum von 2021 zum Verkauf an.
Das Tier ist super zahm, ohne jeden Fehler und ein sehr guter Fresser. Derzeit ca 36 cm lang.

Der Vater des Tieres ist ein UTAH BLACKY! (Reisinger)
Das abzugebende Nachzuchtier hat eine sehr auffällige stark ausgeprägte orangene Farbe und viel Schwarzanteile! Dadurch ist es sehr kontrastreich in Zeichnung und Farbe!

Das Tier hatte in diesem Jahr schon Sperma abgesetzt und kann somit in der nächsten Saison bereits zur Zucht eingesetzt werden!

Siehe Fotos vom Vater und von der Mutter sowie vom abzugebenden Tier auch als Schlüpfling!

Das Tier wird ausdrücklich nur nach fester Bestellung und Anzahlung am 10.06. nach Hamm mitgebracht!
Ich bin in der Haupthalle in Reihe 1 zu finden.

Der Festpreis für das Tier beträgt 1600 EUR!

Bitte rechtliche Vorgaben zur Haltung beachten!
Hello.
I am looking for varanus boehmei. I would be very grateful for any offers or information and I am willing to pay a good price. I would also be very happy to get in contact with other keepers.

Best regards,
Steve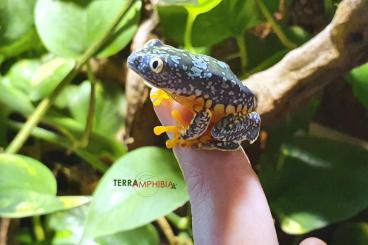 +13
PREMIUM
Sell frogs
Stocklist Houten/Hamm Terra-Amphibia
Stocklist Terra-Amphibia

Email: info@terra-amphibia.com
stocklist: www.terra-amphibia.com

Amphibians
Adelphobates galactonotus Red
Adelphobates galactonotus Blue
Adelphobates galactonotus Moonshine
Adelphobates galactonotus Yellow
Dendrobates leucomelas
Dendrobates leucomelas Bolivar
Dendrobates auratus Panama special
Dendrobates auratus Costa rica
Dendrobates auratus Karibik
Dendrobates auratus Pena Blanca
Dendrobates auratus riticulated
Dendrobates auratus El cope
Dendrobates auratus Costa Rica
Dendrobates auratus Super Blue
Dendrobates auratus el oro
Dendrobates tinctorius Sipiliwini Blue
Dendrobates tinctorius Azureus
Dendrobates tinctorius Cobalt
Dendrobates tinctorius Regina
Dendrobates tinctorius Nikita
Dendrobates tinctorius Ceyenna
Dendrobates tinctorius Citronella
Dendrobates tinctorius natasha
Dendrobates tinctorius nominaat
Dendrobates tinctorius tumucumaque
Dendrobates tinctorius oyapock
Dendrobates tinctorius Dasha
Ranitomeya fantastica Caynarachi
Ranitomeya ventrimaculata
Ranitomeya vanzolinii
Ranitomeya lamasi panguana
Ranitomeya variabilis southern
Ranitomeya benedicta
Ranitomeya imitator tarapoto
Epipedobates anthonyi
Epipedobates anthonyi Rio salladilo
Epipedobates anthonyi Cielito
Phyllobates vittatus
Phyllobates terribilis Mint
Phyllobates terribilis yellow
Oophaga pumilio bri bri
Oophaga lehmanni Yellow tesoros CB

Pre order June
Oophaga pumilio Cristobal
Oophaga pumilio old man creek
Oophaga pumilio Chiriqui grande
Oophaga pimilio Esperanza

Rhinella marina
Pyxicephalus adspersus small

Treefrogs
Agalychnis moreletii
Agalychnis callidryas
Agalychnis Dacnicolor
Litoria splendida large
litoria caerulea snowflake
litoria caerulea blue eyed
Litoria infrafrenata
Hyalinobatrachium valerioi
Heterixalus alboguttatus
Gastrotheca riobambae
Cruziohyla craspedopus Pre Order
Cruziohyla sylviae NEW
Dendropsophus reticulatus PRE ORDER

Newts
Salamandra salamandra proven group

Reptiles
Lizards
Rhacodactylus sarisinorum
Correlophus ciliatus
Lepidodactylus lugubrus SALE
Chamaeleo calyptratus
Heloderma suspectum Male
Heloderma horridum exasperatum
Phelsuma Laticauda
Anolis sabanus male
Anolis marmoratus
Mniarogekko chahoua Male Adult
Mniarogekko chahoua Medium
Rhacodactylus leachianus bayonnaise
Varanus Glauerti
Varanus tristis
Varanus acanthurus
1.1 Varanus panoptes
Uromastyx acanthinura


Tortoise
Geochelone pardalis
Agrionemys horsfieldii
Chelonoides cabonaria


Turtles
Chelydra serpentina
Macrochelys temminckii



Snakes
Morelia viridis BIAK adult CB
Boiga Cyanea CB 2019
Amethystinus moreva
Pituophis catenifer sayi
Lampropeltis maxicana thayeri
Lampropeltis getula holbrooki
1.0 Epicrates cenchria cenchria
Corallus hortulanus



Ask us for the actual stocklist!

‼️ We sell captivebred and raised animals from local and our own breedings ‼️
If you looking for other species or if you have other questions please let us know.


Email: info@terra-amphibia.com
stocklist: www.terra-amphibia.com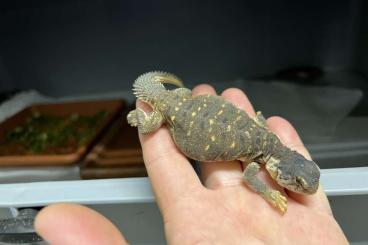 +1
PREMIUM
Sell Lizards
Nice CB uromastyx ornata and aegiptia for Hamm
Available:

CB 2022-2021 uromastyx ornata
225€ 10 heads 195€

CB 2021 uromastyx aegiptia
225€ 10 heads 195€
CB 2020 uromastyx aegiptia
In pairs 690€

Perfect health and documentation!
No trades
PREMIUM
Sell Lizards
Leopard geckos Hamm 10.6. row 3
1000pcs Leopard geckos (E. macularius) babies for sale. CB2023, size 8-15cm, color mix (but without individual morph identification). Unsexed (but mix). Shipping or delivery on request. Pickup possible in Hamm at my table. zagalm@gmail.com
Less than 50pcs - 20€/pc
50-100pcs - 14€/pc
100-500pcs - 13€/pc
500pcs or more - on request
PREMIUM
Sell - bird spiders
For Terraristika Hamm 10.06.2023 - Eucratoscelus pachypus Fh 1
0,0,X Eucratoscelus pachypus FH 1 x 70 EUR , rare African spider limited quantity for sale
0,0,100 Ceratogyrus sanderi FH 1 x 8 EUR,
0,4 Phormingochilus everetti 2,5 cm body 1 x 65 EUR
0,5 Pterinochilus murinus DCF Mikumi park 3 cm body 1 x 30 EUR
0,0,40 Pterinochilus murinus TCF FH 2- FH 3, 1 x 5 EUR
0,0,40 Pterinochulus musrinus DCF Kigoma FH 2 -FH3, 1 x 9 EUR
0,0,20 Tapinauchenius rasti 1 FH 1 x 10 EUR
5,0 Harpactira namaquensis no adult 3 cm body 1 x 20 EUR
5,0 Pterinochilus murinus DCF Mikumi park 2,5-3cm body no adult 1 x 20 EUR
2,0 Phormingochilus everetti 2,5 - 3cm body no adult 45 EUR

I do not have my table there I will bring only orders made here !!!
I will only trade for rare African spiders.
Hey..

I have some Phyllocrania paradoxa ooths that I would like to exchange / sell.

(Exchange preferred against other Invertebrates)

If you are interested, please Pm me with an offer
+4
PREMIUM
Sell Lizards
Varanus Macraei. Glauerti. Acanthurus
Hamm and houten hobby reduction:
0.0.3 Varanus Acanthurus yellow ackie. Hatched March
1.0 Varanus Glauerti breeding male from 2019.

From a friend of mine.
0.0.2 Varanus Macraei hatched 10.04.2023
Here in the www.terraristik.com classifieds you can:

herps buy, sell and exchange.
Find animals and accessories or sell them free of charge or with a paid classified.
Contact breeders and dealers from Germany and abroad.