boeleni Anzeigen Standard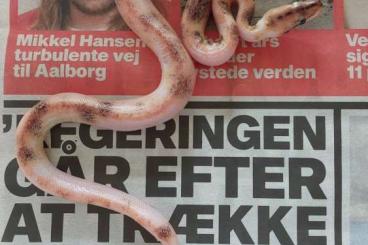 +2
Verkaufe Boas
100% Het pied brazilian rainbow boa Epicrates cenchria cenchria CB2020
100% Het pied brazilian rainbow boa Epicrates cenchria cenchria CB2020 both 1,0 males and 0,1 females available
I also have some low white pied CB.2020 and CB2022 het pied and low white pied available.
only serious inquiries.
The first 4 pictures in the ad are of high whites not for sale.
3. picture are of a low white pied.
Last pictures are of 100% Het pied.
Trade with Snakes of the same value would be possible for example Aspidites melanocephalus morphs or Corallus batesii or Simalia boeleni
Delivery on arrangement would be possible to upcoming Snake Day houten
Suche Pythons
looking for a young male Simalia Boeleni
Looking for a young male by Simalia Boeleni located in Italy looking for a young male Simalia Boeleni in perfect condition.
If i can't find a male for my adult female raised by me and now more than 3mt i will consider the option to sell it. (pictured) .
contact me if seriously interested.
+1
+2
Verkaufe Boas
Boa morphs high end for sale or trade
2021 1.0 Vpi Blood
2021 1.0 Blood poss het vpi
2020 1.0 Img Sunglow kahl
2018 1.0 DH Vpi Blood
2020 1.0 Blood poss het blood

Trades for tree monitors or boeleni python

Asian retailers are welcome for future business.
Looking for :

- Female : Varanus Macraei
- Male or Female : Corallus Batesii
- female : Simalia boeleni
- Male or Female : Iguana melanoderma (black saba
iguana)

Please send me an email on : design-reptiles@outlook.fr
SIMALIA BOELENI / MORELIA BOELENI
BOELEN PYTHON

Looking for simalia boeleni, male or female, even both.
Please contact me by mail

Thanks in advance
Greetings
Looking for SIMALIA (MORELIA) BOELENI.

Preferably couples of juvenile animals please. I am willing
to purchase up to 3 pairs for breeding project. Farm animals
are fine if export is possible.
boeleni Anzeigen Premium
LOOKING FOR

- GTP : blueline / HY KL / Calico / Cross & designer lines.
Serious offer only for stunning snakes + test Nido.

- Simalia clastolepis
- Apodora papuana
- Gonyosoma jansenii Black Salayar
- Crimson iguana
- Pituophis m. lodingi
- Lampropeltis p. woodini
- Lampropeltis p. knoblochi
- Chironius ssp
- Ptyas ssp
- Masticophis (coluber) ssp
- Malayopython timoriensis
- Simalia Boeleni
- Simalia kinghorni
- Simalia amethystina Oksibil
- C. Batesii

Nido test & perfect animals only.

Im looking for, everywhere in Europ :

-Malayopython Timoriensis
-C.batesii
-Simalia Boeleni
-Gonyosoma jansenii Black salayar

-Green tree (Morelia viridis) :

King line, blue line, mosaic, Gläser, lemontree, ....serious
offers only


Hier bei dem www.terraristik.com Kleinanzeigen können Sie:

Terrarientiere kaufen, verkaufen und tauschen.
Tiere und Zubehör finden oder kostenlos oder als Premium Inserat inserieren.
Kontakt mit Züchtern und Händlern aus dem In- und Ausland aufnehmen.