Homoeomma Anzeigen Standard
Suche adulte Männchen für Versand nach NL oder DE


Aphonopelma chalcodes
Brachypelma auratum
Brachypelma hamorii
Cyriopagopus doriae
Cyriopagopus sp. Bach Ma
Dolichothele exilis
Ephebopus cyanognathus
Euthycaelus colonica
Holothele sp. French Guyana
Homoeomma chilensis
Neostenotarsus sp. French Guyana
Omothymus nigerrimum
Ornithoctonus costalis
Orphnaecus sp. blue Panay
Psalmopoeus ecclesiasticus
Scopelobates sericeus
Tapinauchenius plumipes
Tapinauchenius polybotes
Theraphosinae sp. Colombia
Houten (NL) 5/6 table D2 (follow the banner)

Megaphobema robustum 2-3 FH
Theraphosa blondi 2 FH
Theraphosa apophysis 1-2 FH
Cyriocosmus ritae 2 FH
Homoeomma peruvianum 2-3 FH
Hapalopus sp. Guerilla Colombia 2-3 FH
Brachypelma klaasi 2-3 FH
Brachypelma auratum 3 FH
Xenesthis immanis 2 FH
Pamphobeteus antinous 3 FH
And many more...

Full list on www.btbt.be.
Pre-order possible.
Tausche 1.0 Homoeomma chilensis subadult gegen eines der folgenden Männchen ( in allen Größen):

1.0 Euathlus truculentus blue ( = Euathlus sp blue)
1.0 Euathlus sp bronze
1.0 Euathlus sp Tiger
1.0 Euathlus vulpinus
1.0 Grammostola sp Maule
1.0 Grammostola sp Concepción
1.0 Homoeomma orellanai

Bitte nur Tauschangebote.

LG
I am searching for the following species

Euathlus truculentus / pulcherrimaklaasi
Homoeomma chilensis
Megaphobema teceae

cbb, wc, slings or adults

please message me at connor.westgate@hotmail.com if you have any on offer
Looking for these species of Tarantula:

-Aphonopelma bicoloratum
-Aphonopelma moderatum
-Aphonopelma mooreae
-Homoeomma chiliensis

Please contact with details. Thank you
Suche immer noch 1.0 Homoeomma chilensis.
(ex. Euathlus sp fire)
Hatte eine Email erhalten, in dem mir einer Angeboten
wurde. Leider habe ich die Email versehentlich gelöscht.
Bitte unbedingt noch einmal melden. tara_dh@web.de


1.0 Homoeomma chilensis adult male swap for young 0.1
Harpactira sp.

Looking for:
-Euathlus, Homoeomma, Paraphysa, Grammostola red,
grossa, Harpactirella, Harpactira (except pulchripes),
Aphonopelma belindae

-1.0 Nhandu carapoensis

Wanted mm
Thrixopelma ockerti
Pamphobeteus platyomma
Avicularia isla Margarita
Pterinochilus murinus kigoma
Homoeomma chilensis
Must be able to ship to Ireland or
the UK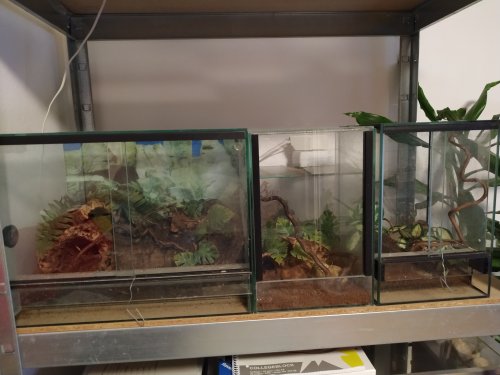 Suchen Nachzuchten von:
Homoeomma sp., Ceratogyrus sp.,
Heteroscodra maculata ab1cm, Augacephalus sp.
Haplopelma (Cyriopagopus) sp., Cyriocosmus sp.
Heterothele sp., Pterinochilus sp.
Ephebopus sp., Encyocratella olivacea
Kochiana brunnipes ab 5FH, Pelinobius muticus
Stromatopelma calceatum, Orphnaecus sp.
Lampropelma sp., Tapinauchenius gigas ab 5FH
Versicolor-Bremen.de
0176-46614690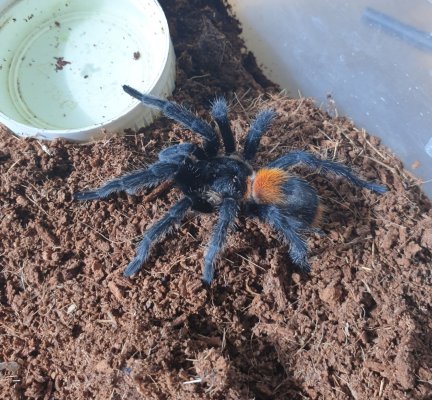 +1
Suche Vogelspinnen
Im in search of someone with a
Im in search of someone with a female homoeomma
chilensis ( Euarhulus sp red) as my wonderful little guy just
molted into a mature male. It would be fun to try have some
kids before he kicks the bucket. :)

Thanks!
Linda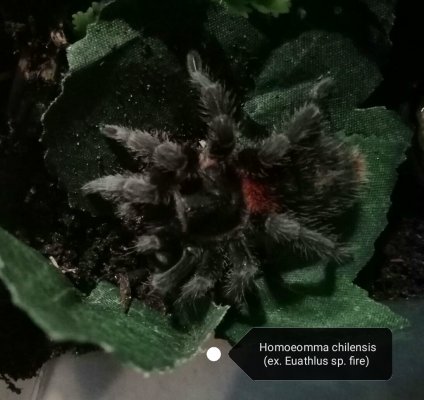 Suche einen 1.0 Homoeomma Chilensis
( ex. Euathlus sp fire)
Suche

0.0.1 Homoeomma chilensis




1.0 Trichopelma sp. Columbia adult
1.0 Ornithoctoninae sp. Mae Hong Son sub oder adult
1.0 Homoeomma chilensis (ex. Euathlus sp. Red) adult
Homoeomma Anzeigen Premium
Hier bei dem www.terraristik.com Kleinanzeigen können Sie:

Terrarientiere kaufen, verkaufen und tauschen.
Tiere und Zubehör finden oder kostenlos oder als Premium Inserat inserieren.
Kontakt mit Züchtern und Händlern aus dem In- und Ausland aufnehmen.